EU photocard driving licence – general information
From 1 March 2006, Austria began only issuing EU photocard driving licences.
Caution
In general, these rules also apply to EU citizens in Austria.
All paper licences and photocard licences issued before 19 January 2013 will remain valid until 19 January 2033 (unless the licence expires before that time for other reasons). However, they must be converted to the EU photocard format by 19 January 2033. The validity period ending in 2033 will apply to all travel within the EU. In order for a licence to remain valid until 2033, the name and date on the licence must still be legible, and the holder must be clearly recognisable in the photo.
It is not mandatory to convert valid paper licences (until 19 January 2033), but you may do so voluntarily. Detailed information on this subject can also be found at oesterreich.gv.at.
Advice
Photocard driving licences issued in Austria on or after 19 January 2013 are valid for 15 years. This is purely an administrative measure for the purpose of updating driving licence documents. You are not usually expected to undergo any medical examinations or driving tests in order to obtain an extension. This also applies to the conversion of driving licences issued in another EU country to an Austrian licence.
Licence-holders must be physically fit to drive motor vehicles at all times. If there is any doubt as to a licence-holder's Fitness to drive, the licensing authority reserves the right to obtain an official medical opinion on the matter. If a licence-holder is not medically fit to drive, their licence may be revoked. Licences may also be restricted or issued for a limited period of time.
The photocard driving licence, which has been harmonised across the EU since 2013 looks in Austria like this: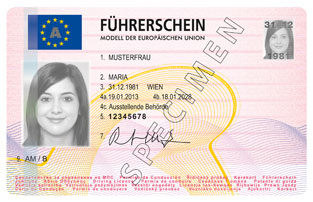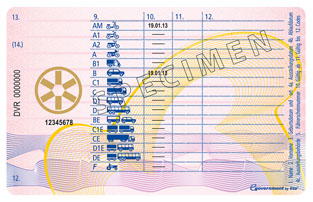 Detailed information about the components and security features of the photocard driving licence can also be found at oesterreich.gv.at.
You must always carry your driving licence when driving. If you are stopped and are found not to be carrying your licence, you will be fined.
All Austrian driving licences have been issued in the EU format. This means that if you move to another country in the European Economic Area (EEA), you do not need to convert your licence.
Mutual recognition of driving licences within the EU is legally assured by Directive 2006/126/EC. This legislation contains basic provisions on driving licences.
It is possible to obtain a driving licence in the EEA country in which you can prove you have spent at least 185 days during the last 12 months, or where you intend to reside for at least 185 days. If your personal and business ties link you to different countries, this will be the country to which you have the closest personal ties (main residence). This applies not only upon first acquiring a driving licence, but also when it expires or is lost, stolen or damaged.
In Austria, driving licences issued in another EU country without an expiry date must also be converted to an EU photocard driving licence card by 19 January 2033 at the latest if the holder has their main residence in Austria at that time.
For travel to certain non-EEA countries, an internationa driving licence is required. These can be applied for from motorists' associations (passport-style photograph required). International driving licences are valid for one year, but only in conjunction with a national driving licence.
Further information on driving licences in the EU, conversion of foreign driving licences and riving licence authorities in Austria can also be found at oesterreich.gv.at.
Further links
Legal basis
Führerscheingesetz (FSG)
Translated by the European Commission
Last update: 31 January 2023
Responsible for the content: Federal Ministry for Climate Action, Environment, Energy, Mobility, Innovation and Technology